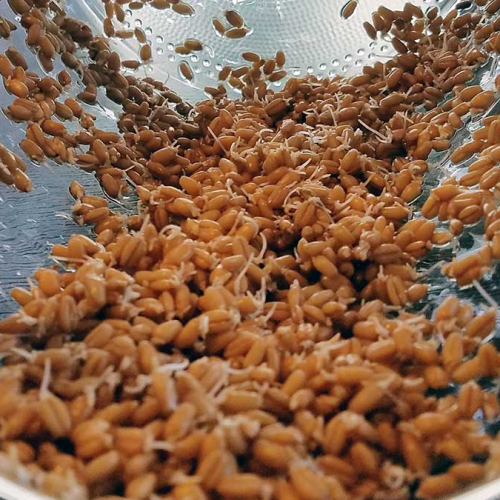 Rye Berry Sprouts
Sprouts are how our ancestors accessed the sugar locked inside starchy grains like farro (wheat), barley, rye, buckwheat, and millet. At home, this method works just as well for lentils, beans, or any edible seed like sunflower. Allowing seeds to sprout before eating them is a cooking process also called malting. Malting was done on a large scale after harvests. The malted grains could then be eaten raw, dried, cooked, baked into bread, or brewed into alcohol for further preservation.
Ingredients
1

part

whole rye berries

or other whole grain

4

parts

water

plus more for rinsing
Instructions
Put 1-part whole rye berries in 4-parts water into a 1-gallon glass jar. Cover with a clean, sanitized, and lint-free cloth, screen, or nylon mesh and secure with a rubber band. Allow to soak overnight.

After at least 12 hours, drain the water through the cloth. Add some fresh water and swirl to rinse. Drain completely and roll jar on its side so the seeds coat the inside.

Repeat the rinse-drain-roll process every 2-4 hours until sprouts form. The constant rinsing keeps the seeds from drying out and inhibits the growth of bacteria. They can be eaten raw, cooked, or baked into bread at this stage.

Keep growing until the grains reach the degree-of-sproutiness you are looking for. I let these grow about 2 days for a Sprouted Grain Bowl or Sandwich Topping.
Notes
There is always some danger that disease-causing mold and even salmonella will colonize freshly-sprouted grains. Our ancestors knew that a poisoned malt could sicken and even kill. In modern times, these issues are a result of improper handling and storage. By not handling the grains while they are sprouting, rinsing in fresh water every 2-4 hours, and careful observation, the process is outlined to ensure that your sprouts are safe and used long before they begin to decay.
Be wary of trying to refrigerate or otherwise stop the growth of fresh sprouted grains. You are only encouraging decay. They should be immediately eaten in sandwiches and salads, or else used as an ingredient for Sprouted Grain Bowls, Sprouted Rye Crackers, or Danish Rye Bread recipes found on this site. 
Pearled Barley, Cracked Wheat and all other grains that have had their hulls removed or damaged won't sprout.
Similarly, some imported seeds are steamed, roasted, salted, irradiated, or otherwise made infertile to protect your native species and prevent ecosystem collapse. This is a good thing, but will keep certain seeds, legumes, and grains from sprouting, depending on where you live. This is the reason you hippies probably can't sprout quinoa or amaranth in the US, unless it has been locally-grown.
In the US, I've had the most experience sprouting whole grains from Bob's Red Mill, which you can find at almost any grocery store chain.
Stone-ground 'whole' grains or flour will not sprout since they have been crushed and dried already.
https://lemonsandtime.com/wp-content/uploads/2021/02/how-to-sprout-grains.jpg
675
1200
Chef Kent Dagnall
https://lemonsandtime.com/wp-content/uploads/2019/11/lemons-and-time-logo-300x138.png
Chef Kent Dagnall
2021-02-26 17:48:08
2021-02-27 04:33:39
How To Make Sprouted Grain