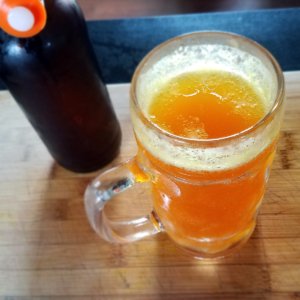 Golden Ginger Ale
This delicious hard ginger ale infused with turmeric is medicinal, stimulating, and visually exciting. Turmeric and ginger have in common anti-inflammatory, antiviral, anti-coagulant, and analgesic effects. They are often combined in traditional medicines from the cultures to which they were available and a native plant known as Wild Ginger Asarum Canadense was used by indigenous people in many of the same ways. Though not native to North America, common ginger Zingiber Officinale was cultivated and renowned both for effective medicine and ale brewing by the first European settlers. Ginger root also contains natural Aspergillus Oryzae (Koji) fungus that converts starch into sugar, which is why ginger is the primary ingredient in the yeast cakes used for making saki and chang from rice. I brew ginger ale to help prevent kidney stones and to stimulate digestion. As a plus, it gives you a pleasant buzz without making you drowsy.
During early colonial American history, ginger ale exceeded the production of both beer and cider. Until Johnny Appleseed changed the game, it was a favorite brew of Martha Washington and the recipe she published was almost certainly the invention of Chef Hercules Posey, a slave owned by the Washingtons who was an early American culinary hero. Washington's grandson, when describing Posey, gives us the ideal impression of a professional chef:
"The chief cook would have been termed in modem parlance, a celebrated artiste. He was named Hercules, and familiarly termed Uncle Harkless. Trained in the mysteries of his part from early youth, and in the palmy days of Virginia, when her thousand chimneys smoked to indicate the generous hospitality that reigned throughout the whole length and breadth of her wide domain, Uncle Harkless was, at the period of the first presidency, as highly accomplished a proficient in the culinary art as could be found in the United States. He was a dark-brown man, little, if any, above the usual size, yet possessed of such great muscular power as to entitle him to be compared with his namesake of fabulous history.
"The chief cook gloried in the cleanliness and nicety of his kitchen. Under his iron discipline, woe to his underlings if speck or spot could be discovered on the tables or dressers, or if the utensils did not shine like polished silver. With the luckless wights who had offended in these particulars there was no arrest or punishment, for judgment and execution went hand in hand.
"The steward, and indeed the whole household, treated the chief cook with much respect as well for his valuable services as for his general good character and pleasing manners.
"It was while preparing the Thursday or Congress dinner that Uncle Harkless shone in all his splendor. Dur ing his labors upon this banquet he required some half dozen aprons and napkins out of number. It was surprising the order and discipline that was observed in so bustling a scene. His underlings flew in all directions to execute his orders, while he, the great master-spirit, seemed to possess the power of ubiquity, and to be everywhere at the same moment."
Hercules Posey eventually escaped his bondage and disappeared from history, though George Washington never stopped searching for him. Rumors persisted that Posey continued to cook for elite families in Philadelphia. I hope he is never forgotten. In honor of the great Chef Hercules Posey, may I present this humble concoction…
Equipment
5-gallon plastic fermenters or glass carboys

24" auto-siphon

Star-San

Graduated Cylinder

Hydrometer

1L Swing-top Bottles or other bottles with caps
Ingredients
1

lb

fresh ginger root

grated

3.75

gallons

water

filtered, spring, or well

16

oz

pilloncillo

grated

22

oz

cane field syrup

Gilley's brand

2

lb

granulated sugar

1

pkg

Safale-US05

1

tbsp

ground turmeric

65

g

priming sugar

sucrose
Instructions
Heat the water, ginger, and sugars just enough to dissolve the sugars and infuse the ginger. I usually don't boil it but some people do to kill all bacteria. Then cool to 80F. Take a hydrometer reading and add sugar to reach your desired level of ABV. If you don't understand, there are plenty of YouTube videos explaining how and why you use a hydrometer to control the alcohol level in your finished brew.

Follow the package instructions and pitch your yeast. Stir vigorously into the ginger infusion. Slowly pour the ginger-infused sugar solution into your fermenter from at least hip level so it splashes. The splashing infuses oxygen, which is necessary for the yeast to start fermentation. Optionally, you can further oxygenate the ginger-sugar solution (wort) by whisking, shaking, or using an aquarium air pump.

Seal with an airlock and let it bubble for about 7 days. Take a hydrometer reading and let ferment until the specific gravity reading does not change for a few days. That's a sure sign that primary fermentation is complete.

Using an auto-siphon, rack into a secondary fermenter and gently stir in the turmeric. Try not to introduce any oxygen at this point by stirring it in gently. Let it infuse for 1 day,

To carbonate, gently stir in priming sugar then siphon into 1L swing-top bottles using a bottling wand. Bottle condition for at least 2 days, then refrigerate and enjoy.
Notes
I used a bunch of different sugars that I had collected in my pantry, including Gilley's Pure Cane Syrup from Florida and Mexican Pilloncillo (aka Panela or Indian Jaggery), which are made from minimally-processed sugar cane juice with no preservatives. You can use any sugar to bring the specific gravity to the desired level. However, I think that granulated cane sugar ferments too quickly and gives off weird flavors, so I tend to use the least-processed types of sugar I can find. 
https://lemonsandtime.com/wp-content/uploads/2021/10/golden-ginger-ale-recipe.jpg
1080
1080
Chef Kent Dagnall
https://lemonsandtime.com/wp-content/uploads/2019/11/lemons-and-time-logo-300x138.png
Chef Kent Dagnall
2021-10-21 13:54:25
2021-10-21 14:08:58
Golden Ginger Ale