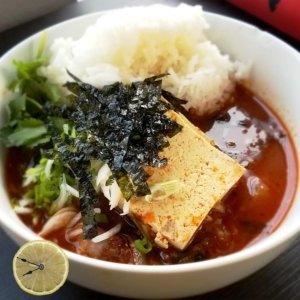 Mook Eun Ji
"At the end of hardship comes happiness." – Korean Proverb
I am not Korean but eat a lot of kimchi and that must count for something. Perhaps for this reason, out of all the great cuisines I've been nourished by, I appreciate Korean food most. Many of the ingredients are simple and familiar, yet they are transformed into elegant dishes I'd never have expected. Korean cooking has been focused on essential flavors over so many generations even one missing ingredient would ruin the balance. I just love when minimalism maximizes flavor, and am dumbfounded by the simple perfection of an anchovy broth, much less elegantly-seasoned banchan, those numerous and increasingly delicious side dishes Korean hosts serve in such abundance!
Fermentation was mastered at a goddess-like level by Korean women millenia ago and the rest of the world is only beginning to appreciate what they've been up to for all these years.
Ingredients
2

lbs

beef shank

or bone-in pork

1

cup

kimchi juice

12

whole

dried anchovy

1

tbsp

dried shrimp

3

green onion

roots for broth, tops for garnish

1

piece

kombu

or any dried kelp

1

qt

water

2

tbsp

toasted sesame oil

6

cloves

garlic

chopped

3

green chiles

1

cup

lacto-plum vinegar

or plum wine, or rice vinegar

1

kg

kimchi

aged 1-year, at least

2

tbsp

fish sauce

Red Boat brand, or better

1/4

cup

soy sauce

1

block

firm tofu
Instructions
Marinate 1-inch thick slices of beef shank, lamb shank, or bone-in pork in kimchi juice for about 45 minutes. Don't leave for too long or kimchi juice will cook the meat. Reserve all of the leftover marinade.

To make an anchovy-shrimp broth, first soak the dried anchovy, dried shrimp, kelp, and green onion roots in cold water for 20 minutes and bring to a boil. Remove from the heat until ready to use.

Brown the beef shanks in tallow, lard, butter, or vegetable oil. I use a cast-iron skillet since my Instapot doesn't heat up well enough to sear meat.

If using an Instapot, heat the toasted sesame oil on the Brown/Sauté setting and gently fry finely chopped garlic, green chiles, and green onion until softened. Add the beef shanks and change to the Meat/Stew setting. You can also use any roasting pan or Dutch oven with a lid.

Strain your anchovy broth over the beef and add the kimchi juice, including all the leftover marinade, and plum vinegar. You can also use rice vinegar or plum wine. Seal the lid and cook for at least 1 hour 30 minutes.

When the meat falls off the bones remove from heat and let cool to around 120F.

Add the chopped kimchi and sliced tofu. Hard boiled eggs can also be added if you want. Kimchi is a living fermentation filled with probiotics, so by waiting to add the kimchi until ready to serve we avoid boiling it and retain these beneficial bacteria.

Season to taste with soy sauce and fish sauce. Serve with rice and garnishes like nori seaweed, chile threads, toasted sesame, cilantro, green chiles, and green onions.
https://lemonsandtime.com/wp-content/uploads/2021/08/mook-eun-ji-kimchi-jiigae.jpg
675
1200
Chef Kent Dagnall
https://lemonsandtime.com/wp-content/uploads/2019/11/lemons-and-time-logo-300x138.png
Chef Kent Dagnall
2021-08-08 14:19:20
2021-08-08 18:03:57
Old Kimchi Stew