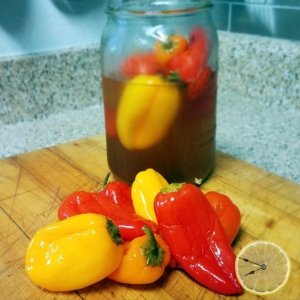 Pickled Peppers
Ever wonder what to do with those cello-bags of red, green, orange, and yellow mini-peppers? Once they're pickled, you can chop them into relish, make pimento cheese, add to pasta, give your omelettes some zing, or just eat them.
Ingredients
Pickle Brine:
1

qt

apple cider vinegar

1

cup

white vinegar

1

cup

water

1

cup

sugar

1

piece

star anise

1/2

tbsp

mustard seeds

1

bay leaf

1

tsp

red chile flakes
Instructions
Grow or buy 1 lb. of mini sweet bell peppers of various colors. Rinse and place in a mason jar.

Bring the ingredients for the brine to a boil in a covered pot.

Place a 1-quart mason jar in a bowl to catch overflow and pour hot brine to the very top. Use a sauerkraut tamper, bean masher, fermentation weight, or spoon to smash down on the peppers so they all fit. Top off with brine and seal with a lid and ring.

After 3 days the pickled pimentos are ready to use in recipes. Their crisp pickle texture will keep in the fridge for several weeks. If they get too soft, I still use them to flavor soups.
Notes
This is not a shelf-stable canned product, it is meant to be a 'quick pickle' after a few days and then used in recipes or eaten.

After a few hours or days the peppers will absorb some brine and release the air trapped inside. You can top off with leftover brine or just leave them sealed in the fridge until ready to use.

The leftover brine is delicious and can be used again up to 3x to make even more pickles, in salad dressings, or to add a splash of acid in any recipe.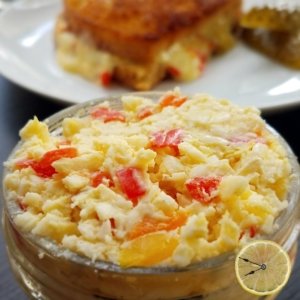 Pimento Cheese
Most of the great food traditions of the American south are traceable back to Africa. Barbecue, okra, greens, field peas, red beans, rice, cornbread, yams, and peanuts all came from Africa with the first slaves. Not this recipe though! Probably the greatest contribution Anglos have ever made to cuisine, Pimento Cheese is a kitchen staple down here.
A frankenstein creation of dairy products, mayonnaise, and spices, it really has no business tasting this good. For 'pimentos' most people use roasted and canned red bell peppers, but I don't like the taste or texture as much as these fresh pickled mini-peppers.
Ingredients
2

lbs

aged sharp cheddar

shredded

200

g

pickled peppers

from 1lb. of minis – see recipe

8

oz.

cream cheese

50

g

mayonnaise

always Duke's – see note

2

g

white pepper

1/2 tbsp

6

g

granulated garlic

1/2 tbsp

6

g

dried onion powder

1/2 tbsp

20

g

yellow mustard
Instructions
Make one recipe for pickled peppers a few days before. Let the cream cheese soften for a few hours at room temperature. Cut peppers in half, reserving the brine for next time or another use. Remove the seeds and stems, then small dice the peppers with a sharp knife.

Coarsely shred the cheese using a food processor or box grater. I used a white cheddar aged 2-years from Vermont. In a large mixing bowl, combine all the ingredients and gently fold to mix. Try not to break up all the cheese, it should still look shredded.

Pimento Cheese keeps for a long time in the fridge, either packed in mason jars or tupperware, just don't try to freeze it. In my house it's never gone bad since I eat it all first.
Notes
You could fire-roast the peppers before pickling them or try adding jalapeños and cayenne for a kick.
Real pimento cheese must only be made with Duke's brand mayo. If you haven't tried it you're missing out. It is hard to get outside the southeast, but totally worth it. 

If you want to use pimento cheese as a dip, add mayo for a more spreadable texture. But if you want to melt it, like I do on grilled cheese, omelettes, and burgers, stick to the smaller amount of mayo.

Pimento Cheese and Bacon are a synergistic pairing, and just like peanut butter and jelly they make a damn fine sandwich together.
https://lemonsandtime.com/wp-content/uploads/2021/07/pickled-pimento-cheese-recipe.jpg
675
1200
Chef Kent Dagnall
https://lemonsandtime.com/wp-content/uploads/2019/11/lemons-and-time-logo-300x138.png
Chef Kent Dagnall
2021-07-27 13:17:23
2021-07-27 15:31:11
Pickled Pimento Cheese