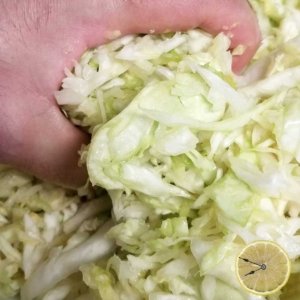 Fermented Sauerkraut
"If you wish to drink deep at a banquet and to enjoy your dinner, eat as much raw cabbage as you wish…" – Marcus Porcius Cato, De Agri Cultura
Ingredients
1

kg

cabbage

any variety red or green

20

g

coarse salt

2

tsp

caraway seeds

optional

1

tsp

juniper berries, crushed

optional

1

small lemon, peel only

optional
Instructions
Rinse the dirt off the cabbage and remove any wilted leaves. Shred with a sharp knife. Cabbage leaves already contain all the lactic acid bacteria needed for sauerkraut to ferment.

Weigh the final amount of shredded cabbage by grams and multiply by .02. The result is the amount of coarse salt in grams you will need for lactic fermentation. This is the minimum amount to prevent mold and yeast growth, leaving the salt-loving lactic acid bacteria to do their magic.

If you want a little more salt in your kraut up to about 4% by weight should be fine, but it will taste briny and inhibit fermentation if you add too much.

'SCRUNCH' the cabbage tightly with your hands so the salt begins breaking down the cell walls, releasing cabbage juice into the bowl. Make sure to save every drop since you have already measured the perfect amount of salt. Keep doing this until all the cabbage is limp, or your hand falls off first. This is also a great excercise for grip strength!

Fun Fact: your hands always have lactic acid bacteria on them! So if they are clean but not sanitized your own microbiome can help kickstart fermentation.

Transfer all of the cabbage, salt, and juice into a 1-gallon glass jar or earthen crock.

If using a traditional crock, place fermentation weighs on top and follow manufacturer instructions to cover. Check back in a day to ensure that enough liquid has been released to cover the cabbage to prevent mold. If too dry, you can add a 2% salt solution until liquid covers the top.

If using a glass jar, place a 1-gallon ziplock bag inside and carefully fill the bag with water. Make sure the water-tight bag squeezes out all the oxygen to prevent mold.

For 10-12 days the jar will be bubbling with carbon dioxide gas, showing how the lactic acid bacteria are converting cabbage into sauerkraut. Fermented sauerkraut has vitamins, amino acids, and micronutrients not found in cabbage as a result of this activity.

You may eat or refrigerate the kraut when it reaches your desired 'doneness' (krautiness?) and it will keep in the fridge for months. Or, leave it to continue fermenting without oxygen for up to 2 years (probably longer). Old sauerkraut is just as pungent as you'd expect but retains all its powerful nutrition.
Notes
I use the coarse salt leftover from preserving lemons or blood oranges (recipe coming soon). This is the same high-quality sea salt from Korea used in my Kimchi.
Sauteed sauerkraut with apples and onion is a wonderful side dish to serve with bratwursts or pork chops with mustard, pickles, and rye bread, like in the traditional feast Choucroute Garnie à l'Alsacienne approximated below.
Fermented Sauerkraut is naturally high in Vitamin K2 MK7 which is cardio-protective, anti-cancer, and important for strong bones and teeth.
Probiotic bacteria in raw fermented sauerkraut (not sauteed) can help heal stomach problems by balancing your own gut flora.
Taking a shot of 'kraut juice' is my favorite remedy for hangovers and Cato The Elder would agree!
https://lemonsandtime.com/wp-content/uploads/2021/07/fermented-sauerkraut.jpg
675
1200
Chef Kent Dagnall
https://lemonsandtime.com/wp-content/uploads/2019/11/lemons-and-time-logo-300x138.png
Chef Kent Dagnall
2021-07-18 08:01:51
2021-07-27 13:38:26
Sauerkraut