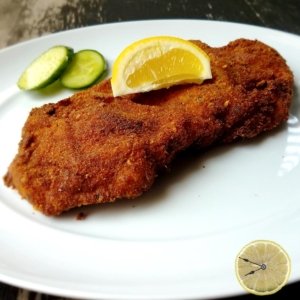 Schweine-Schnitzel
Wienerschnitzel is always veal, but when made with swine it is called 'schweineschnitzel.' I like to use a well-trimmed pork loin, since they are available everywhere and inexpensive. You can use any cut as long as there is no connective tissue running through it. Variations on schnitzel are found all over the world, because cutlets are freaking delicous and cook quickly with minimum fuel. I really like to make this recipe in the summer since it only heats up my kitchen for 10-15 minutes. I serve with a bowl of fresh lemon wedges, I think they taste best when drowned in lemon juice. A fried egg on top is traditionally optional and incredibly decadent.
Sometime in the future, I'll probably post nearly identical recipes for Italian Cotoletta alla Milanese made with Parmesan in the breadcrumbs and fried in olive oil, or South American Milanesa made with beef cutlet, or even Japanese Tonkatsu – whatever name you call them by, my first cutlet was a Schweineschnitzel like this one, I really love them all equally.
Ingredients
4

oz

pork loin

butterflied

1

L

lard

or frying oil

2

cups

breadcrumbs

4

eggs

1

tsp

salt

1

tsp

black pepper

1/2

tsp

juniper berries, ground

optional
Instructions
Start with a pork loin large enough to make as many 4-5 oz. servings as you want. Remove the fat cap by sliding a sharp knife between the white connective tissue 'silverskin' and the pink meat. As you slice, simply pull back the fat to expose the meat.

Finish taking off any remaining silverskin or it will get stuck in your teeth. Take of the fatty chain (shown background) so your pork loin is fully trimmed.

Cut the pork loin into 4-ounce chops, and slice each chop 3/4 of the way to butterfly.

Cover with plastic film to prevent splatter. Using a mallet or rolling pin, beat the chop using glancing blows until it is only 1/4 inch thick. The resulting cutlet should be uniformly thin, but not quite transparent or torn.

Season pork with salt, pepper, and optional ground juniper berry. Whisk the eggs in a shallow pan large enough to fit the schnitzel. Place the breadcrumbs in a larger pan. Heat the lard or suitable oil for frying in a large cast iron skillet, stockpot, or deep fryer to 360F.

Working with one wet hand and keeping one hand dry, soak the cutlet in egg and then coat both sides in the breadcrumbs, gently pressing them to adhere. Then, back into the egg wash a second time and once more with the second layer of breadcrumbs. At this point the breading may be thick but should be fairly even and dry to the touch.

Once the oil reaches 360F, fry your schweineschnitzel for about 1-2 minutes on each side. A thermometer inserted in the middle will read at least 160F and the color should be uniformly golden.

Let rest on a wire rack for 3-5 minutes to allow carryover cooking to finish.
Notes
Serve with lots of lemon wedges, and pair with a cucumber salad, cabbage marinated with vinegar, sauerkraut, or German potato salad.
https://lemonsandtime.com/wp-content/uploads/2021/07/wienerschnitzel.jpg
675
1200
Chef Kent Dagnall
https://lemonsandtime.com/wp-content/uploads/2019/11/lemons-and-time-logo-300x138.png
Chef Kent Dagnall
2021-07-17 21:48:42
2021-07-18 19:41:08
Schweine-Schnitzel