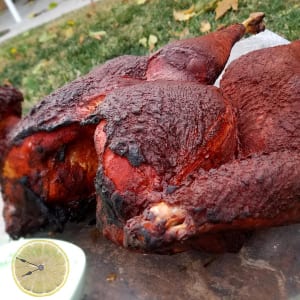 Pavo Pibil - Smoked Turkey in Achiote
Pasture-raised turkey, marinated in achiote and smoked, looks ferociously orange but is not spicy, getting all that pigment from anatto seed, not chile. You can imagine this Mesoamerican preparation being served the same way with a traditional green crema and warm tortillas for hundreds of years. Would not change a thing!
Ingredients
Achiote Marinade
265

g

Achiote Paste

220

g

citrus juice

100

g

apple cider vinegar

85

g

garlic cloves

16

g

sugar

12

g

salt

7.5

g

black pepper

5

g

dry oregano

1

g

ground cinnamon
Green Sauce
45

g

roasted green chile

45

g

fresh green chile

45

g

fresh cilantro

115

g

lime juice

210

g

yogurt

110

g

mayonnaise
Instructions
Chef Phillip Dell has ranked #1 in chicken on the National Barbecue Circuit (KCBS). This is his Texas-style offset pellet smoker loaded with natural fruitwood including cherry and apple. It has zones of different heat, but the average is about 240 F.

Achiote paste is not the same as powder. It is a perishable, artisan product that should be sourced accordingly. It is made from annatto, the same natural spice that gives cheddar cheese a yellow color, seasoned with other traditional herbs and spices. It should be dissolved in an acidic liquid. I like citrus juice mixed with vinegar.

Simply combine all the marinade ingredients in a blender.

Spatchcocking a pasture-raised turkey or any bird allows smoke to penetrate from the inside and it will cook more evenly. Watch our video to learn this simple knife skill from a professional chef.

Loosen the skin from the meat over the breasts, under the thighs, and down to the drums with your fingers. Pour achiote marinade under the turkey skin and massage it over the entire bird.

This isn't impossible for one person, but it helps to have a friend to hold the skin open. Try not to be holding a camera at the same time.

Flip your bird and get marinade all over the inside.

Paint with the remaining achiote.

Smoke in the low 200s for several hours. Use a probe thermometer on the thickest part of the breast. When it reaches exactly 155 F remove from heat and let rest at least 15 minutes. Enjoy in pleasurable company with green sauce and warm tortillas.
https://lemonsandtime.com/wp-content/uploads/2019/12/lemons-and-time-pavo-pibil.jpg
1200
1200
Chef Kent Dagnall
https://lemonsandtime.com/wp-content/uploads/2019/11/lemons-and-time-logo-300x138.png
Chef Kent Dagnall
2019-12-01 03:16:12
2021-02-06 09:55:04
Pavo Pibil - Smoked Turkey in Achiote