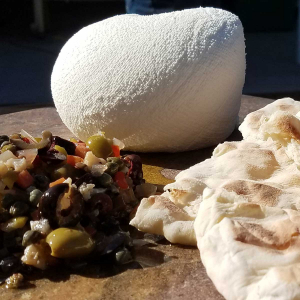 Ricotta Cheese
Smooth, rich, and tangy, this homemade ricotta cheese is so much better than storebought, it is like an entirely different product. You can hang it in cheesecloth until creamy or leave to intensify in flavor a little longer so it crumbles like feta. Save the leftover whey to make Grilled Flatbread or use in marinades to tenderize meat.
Ingredients
1

gal

whole milk

500

g

heavy cream

55

g

salt

100

g

lemon juice

20

g

ascorbic acid
Instructions
Heat the cream and milk to 180F. I use my Insta-type-pot with a high-temperature yogurt setting.

Add the salt, lemon juice, and additional ascorbic acid and stir gently to distribute. I used the salt from Preserved Lemons for an extra zing. You can purchase ascorbic acid online or where bulk spices are sold. Stop stirring and let curds form for 30 minutes.

Prepare a large bowl lined with 4-6 layers of cheesecloth. Trying not to break the hot curds, transfer them from the pot to the bowl using a large ladle or measuring cup. Do not overfill so you can lift the edges to form a bag. Use pipe cleaners, zip ties, or twine to tie the cheesecloth bag. I've also installed a cup hook on the underside of my cabinets to hang it from to drain the whey.

How long you let your ricotta drain is up to you. It takes about 4 hours to reach cream cheese consistency good for both eating and baking. Longer than that results in a lovely but saltier cheese with a feta-like texture. I usually leave mine overnight for about 6-8 hours.
https://lemonsandtime.com/wp-content/uploads/2019/11/instapot-yogurt_1200.jpg
1200
1200
Chef Kent Dagnall
https://lemonsandtime.com/wp-content/uploads/2019/11/lemons-and-time-logo-300x138.png
Chef Kent Dagnall
2019-11-22 20:02:59
2020-02-03 04:45:18
Ricotta Cheese