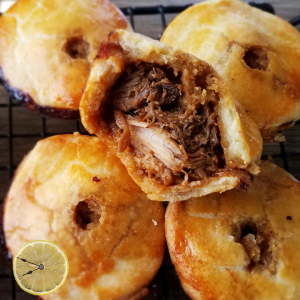 Pork Pies
Molasses-cured pork loin and gravy inside a flaky, sage-scented pie crust is totally worth a little time and effort. The technique for hot water crust is the only thing traditonal about these bad boys. Pork is marinated for 24 hours, then cooked in your Instapot the day before. They're easy to bake in a muffin tin, travel well, and are even better the next day, if any last that long.
Equipment
Instapot

Muffin Tin

Funnel

Cast-Iron Skillet

Small saucepan
Ingredients
Molasses-Cured Pork
1

kg

pork loin

or shoulder, or butt

180

mL

molasses

35

g

coarse salt

20

g

red chili powder

10

g

cumin

10

g

black pepper

1

large

onion, sliced
Hot Water Pastry
400

g

flour

55

g

butter

95

g

lard

6

g'

salt

6

each

fresh sage leaves

chopped

170

mL

water
Instructions
Cut the pork loin into pieces that will fit your inside your Instapot, roasting pan, Dutch Oven or cast-iron skillet. Rub all sides with salt and spices, then coat all over with molasses. I use a brush and wire rack to let the extra molasses drip onto a sheet pan. This can be reserved for later in the recipe. You can also use a 1-gallon zip top bag. Let the pork cure in the salt, spice, and molasses mixture for 12-24 hours. Remove and reserve any leftover marinade for gravy.

The next day, heat lard or frying oil in a cast iron skillet. If using an Instapot you can use the Brown/Saute setting. I use my Instapot but still brown meat in the skillet to get a better crust. Either way, once the oil is hot, take your sweet time to fry the pork on all sides until deeply caramelized. Be cautious since the molasses will burn if left on high heat. Remove pork, add sliced onions and caramelize. Deglaze the pan with water.

Cover 3/4 with about 3 cups of water. If using a slow cooker or oven, braise for 3-4 hours, turning occasionally until the meat is shreddable with a fork. Better yet, use your Instapot set on 'Meat/Stew' for 45 minutes on High Pressure. Drain and reserve the cooking liquid. Let everything cool. Once the meat is cool, shred it by hand and refrigerate until cold.

Whisk about 100 mL room temperature cooking liquid with 10g gelatin powder. Boil the remaining reserved cooking liquid with any leftover molasses marinade. Continue to boil until liquid is reduced to about half, and season to taste with more molasses, salt, and/or spices. Pour boiling gravy into the gelatin mixture and whisk well to combine. Set aside at room temperature.

You want to work with the pies while the hot water pastry is still warm, so have the other ingedients ready and grease a muffin tin with some lard beforehand. Preheat oven to 375F. Bring the water, butter, lard, salt, and fresh sage to a boil. In a heat-proof bowl, make a well in the center of the flour and pour in the hot water mixture. Mix with a spatula or wooden spoon until cool enough to handle and gently knead into a smooth dough with no lumps.

Take 2/3 of the dough and roll out on a well-floured surface to 1/4" thickness. Cut 12 circles large enough to go up the sides of your muffin tins. If you have pans for making big muffins you might get 9 large pies. Working quickly before the dough cools, press each circle into place using your fingers to even out the pastry and seal any cracks, especially in the corners.

Roll out the remaining dough and cut smaller circles for the lids. Fill each pie with cold shredded pork right to the top. Seal each lid completely using your fingers and egg wash.

Bake at 375F for about 45 minutes and check the internal temperature. When it reaches 180F and the pies are golden brown remove from the oven and let rest for 10 minutes before unmolding onto a wire rack.

Using a paring knife, make a hole in the top of each pie large enough to jam in the end of a funnel. Spoon or cafefully pour your gelatin mixture through the funnel until all empty space inside the pies is filled with the gravy. Now let the pies cool completely to room temperature. There's no need for refrigeration if you eat them within a day or two.
Notes
Try adding thyme, savory, rosemary, or your favorite herbs in place of, or in addition to, fresh sage. You could make equally good pies with BBQ Pulled Pork, Poached Salmon, or Smoked Chicken. Caramelized onions are nice additions, and make a damn fine pie on their own.
https://lemonsandtime.com/wp-content/uploads/2020/11/molasses-pork-pies.jpg
1080
1080
Chef Kent Dagnall
https://lemonsandtime.com/wp-content/uploads/2019/11/lemons-and-time-logo-300x138.png
Chef Kent Dagnall
2020-11-18 07:29:18
2021-02-19 14:24:24
Molasses Pork Pies